SQX Online Solution Day Q2 2022
Date: 21 June – 12 July 2022 (every Tuesday)
Time: 14:00 – 14:40 (Hong Kong Time)
Platform: Online webinar on ZOOM
Language: Cantonese and English
Fee: Free
Registration: REGISTER NOW
or Email your contact to RSVP@securex.hk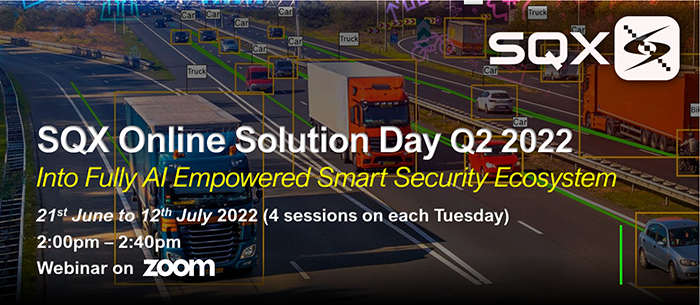 Into Fully AI Empowered Smart Security Ecosystem

Milestone Video Management Software (VMS) is the industry-leading AI empowered open platform VMS for IP camera-based security and CCTV. Milestone XProtect brings all the puzzle pieces for video surveillance together in a perfect combination to create a solution that keeps people and property safe today – and tomorrow.

Quantum provides secure, end-to-end solution that allows you to manage and preserve your data for decades, to easily extract insights from it. Quantum also provides software and services to manage and enrich data, including the most complex unstructured data and video files.

Bosch is a leading global supplier of security, safety, and communications products and systems. Bosch offers solutions and services for building security, energy efficiency and building automation.

Delivering accurate, flexible, and comprehensive solutions, BriefCam's video analytics platform provides valuable insights for accelerating investigations, increasing situational awareness, and enhancing operational intelligence.
Schedule
Topics
Panelists
Session 1
21 June 2022 (Tue)
2:00pm – 2:40pm
Solutions on SMART CITIES
Mr. Desmond Chung
Distribution Channel Manager
ASIA, Milestone

Mr. Swee Siong Tan
Channel Business Manager
North Asia & China, Milestone
Session 2
28 June 2022 (Tue)
2:00pm – 2:40pm
Hyperconverged-infrastructure for Video Surveillance
Mr. Jason Liw
Business Director for M&E and VS – ASEAN, Quantum
Session 3
5 July 2022 (Tue)
2:00pm – 2:40pm
Bosch AIoT video systems deliver the Power to Predict.
Mr. Louis Lee
Sales Manager, Bosch
Session 4
12 July 2022 (Tue)
2:00pm – 2:40pm
Transforming Video into Actionable Intelligence
Mr Ken Chan
Regional Director – NorthAsia, BriefCam
Download Flyer: