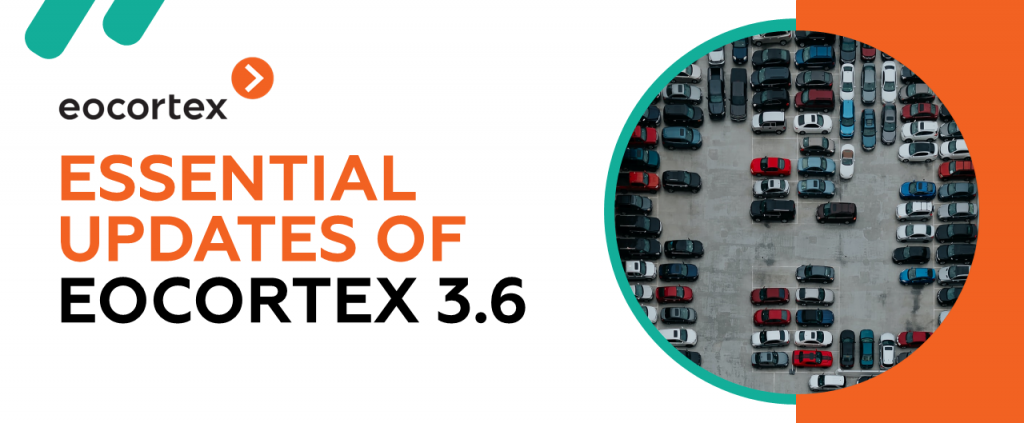 Let us introduce to you the powerful Eocortex 3.6 updates which will make video surveillance by times more efficient and user-friendly. The functionality of both Light and Complete versions of the License Plate Recognition module has been expanded with new capabilities for counting the number of vehicles in the parking lot and recording the time they spent inside.
The License Plate Recognition module updated in version 3.6 allows to:
monitor the total number of vehicles in the parking lot and the number of vehicles driven in/out, both in real-time and in a given time interval;
monitor the total time spent by each vehicle in the parking lot;
detect vehicles that have exceeded the allowed parking time;
set automatic action scenarios (Activate the alarm, Send a notification, etc.) in case of maximum parking lot occupancy, violation of the allowed parking time, entry/exit of a certain vehicle;
receive automatic reports on the number of vehicles, the time of entry or exit, and the time the vehicle was in the parking lot.
And all of this is in addition to the basic functions of the module: recognition of license plates and saving to the database with timestamp; setting permitted and prohibited vehicles; setting up automatic opening of the barrier for vehicles with license plates from the database, for which the entry is allowed.
Within the same video system, several parking lots can be set with individual settings for each (maximum allowable parking time, number of parking spaces), as well as separately configured scenarios for automatic actions. Statistics for parking lots can be obtained both for each parking lot separately and for the entire system using the Client application and in the form of a report.
New features are free of charge for users of the Complete and Light versions of the License Plate Recognition module.
The new version 3.6 of Eocortex is already available for download and testing!